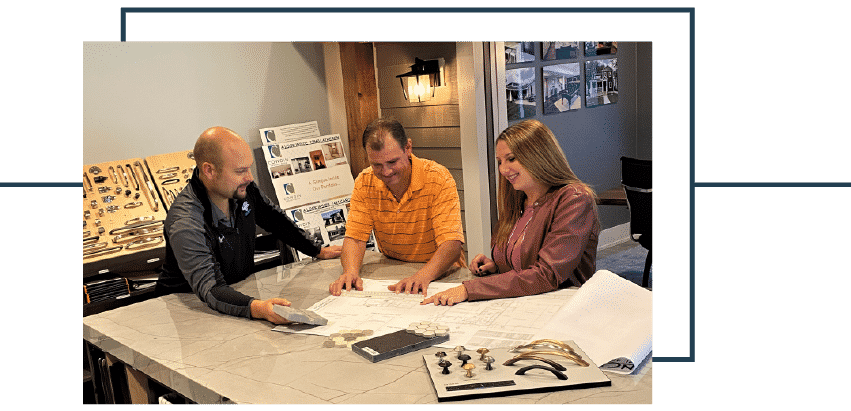 A single source for both
design and construction.
When you collaborate with Cowdin Design + Build, you will be engaged by your own personal team of design and home construction professionals, who will walk you through every step of the process, listening to your goals, imparting our experience and expertise, and presenting options that bring your project to life.
We strive to create the home of your dreams, not ours. As such, we will work with you to identify your priorities, incorporate "must-haves," and keep the project moving forward both on time and on budget.
Once all details are finalized, your project will move seamlessly from design into production, our team of craftsmen will work with the singular goal of exceeding your expectations at every turn, making your investment into your home one of lasting enjoyment.
"The designer was excellent. The suggestions she made had exactly the effect we were hoping for. Their carpenter was excellent as well. He was here on time, did an excellent job and answered our questions in the process.. The electricians were equally as good and professional. I liked the complete package and love our new home!"
"I was most satisfied with the fact that there were some customizations of certain aspects of our project that were a little difficult as they had to work around parameters that were already in place. But, they were able to successfully work around those parameters and were able to make the basement what we wanted it to be! Also, the carpentry work was outstanding."
"Honest and open dialogue during the build process on our 3 story addition and whole home remodel was greatly appreciated. We were able to work through many complex issues, from the ICF basement, to structural reinforcements and finishes, all through professional discussions in an open and honest context. We also really enjoyed the master carpenters on their team!"
"Of all the companies we met with at the beginning of our home building journey, Cowdin Design + Build (via Phil) was the only one who didn't flat out say no to the size and features (first floor master) that we wanted. In addition, Phil was the only one who followed up after our meeting (and via a handwritten letter, at that) to say that he enjoyed meeting with us and that he was hopeful he would be able to design and build our custom new home."
"Project management of the entire project exceeded my expectations. I greatly appreciated the way problems were resolved. If a contractor did not complete the job to my complete satisfaction, Bill Cowdin made sure that it was corrected and that I was fully satisfied. The workmanship is excellent. I have had them do numerous projects in two different homes and would hire them again!"
"I would recommend Cowdin to a friend. I feel that their professionalism and enthusiasm for the work was high and made me worry less about turning over the keys to my home. I felt like their entire staff is focused on doing the absolute best job that they can do, and they do nice work. The high quality of work and attention to details is superior and made me worry less about the "things I couldn't see" like plumbing and HVAC."